1 Carton : 10 Packs (200 Heat Sticks)
Taste : A tobacco pack with blue stripes, with less saturated notes of herbaceous notes. Has the strongest tobacco taste - a light, unobtrusive tobacco taste that lingers.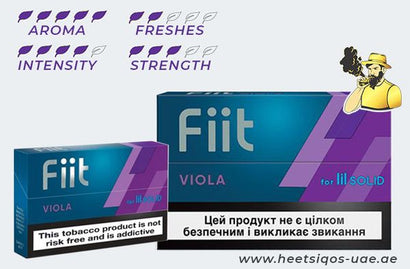 -27%
1 Carton : 10 Packs (200 Heat Sticks)
Taste : Sticks with berry, refreshing aroma.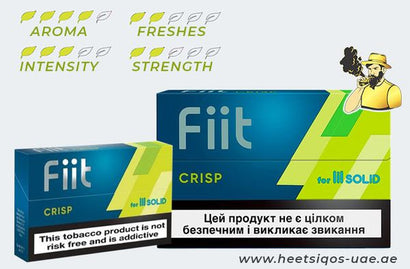 -27%
1 Carton : 10 Packs (200 Heat Sticks)
Taste : These sticks have a spicy and refreshing scent. Soft, fresh taste with citrus notes.
IQOS Heets Fiit: A History, the Latest Flavors & More
Heating your tobacco product with metal or wood, burning the tobacco and inhaling the smoke is an old-fashioned method that often leads to the lungs becoming clogged and the user developing cancer. More and more people are turning to a new, revolutionary way to use tobacco that's gaining popularity around the world: using IQOS technology. IQOS is a smoking device that heats tobacco instead of burning it, and it's growing in popularity in the UAE. IQOS is a revolutionary technology that allows you to use tobacco without getting cancer or suffering from other diseases that can be caused by smoking. This article will provide you with a brief history of IQOS Heets Dimension as well as information on the current flavours.
Introduction to the IQOS Heets Fiit
IQOS has created a breakthrough new product, Heets Fiit. These stick packs come in four delectable flavours: Regular, Crisp, Tropic, and Viola, as well as a blue box and easy-to-read labelling. With this stick pack, you will have a bit more variety! Stick packs include the same components as standard IQOS products. Load the stick pack into your IQOS device, and the flavours are distributed via a novel drip-free procedure.
History and the Objective of the IQOS Heets Fiit
IQOS Heets Fiit is a unique product that has been around for quite some time now. It is a smoking cessation product that uses heat instead of smoke. The IQOS Heets Fiit was developed in 2018. The objective of the IQOS Heets Fiit is to help smokers quit smoking by providing them with an alternative way to smoke that doesn't involve tobacco smoke. The heat from the device is said to help reduce cravings and withdrawal symptoms, and it has been reported to be very effective in helping smokers quit smoking.
Available Flavors of the IQOS Heets Fit
The Heets Fiitcomes in 4 different flavours: Regular, Crisp, Tropic, and Viola.
Heets Fiit Tropic: It has a wonderful citrus flavour with a somewhat sour and spicy scent. It has the same unpretentious features as Heets Green Zing and has a light, fresh smell.
Heets Fiit Crisp: When tasting the flavour, the first thing that springs to mind is freshness. It almost feels chilly once you spray it. The tastes include mint candy, lemon, and herbs.
Heets Fiit Regular: It has genuine taste. The flavour of a high-quality tobacco stick is basic and straightforward. It has a creamy taste that is moderate in intensity.
Heets Fiit Viola: It smells wonderful. The taste is similar to mint gum. A delectable menthol blend with or without blueberries.
Why choose IQOS Heets Fiit?
IQOS Heets Fiit is a unique and innovative product that has been generating a lot of buzz in the market lately. First and foremost, IQOS Heets Fiit is an excellent way to kill two birds with one stone – you can use it both as an e-liquid and a vape cartridge. Secondly, it offers superb flavour profiles that are sure to please even the most discerning vapers. With so many great reasons to try IQOS Heets Fiit, there's no reason not to give it a go! Buy IQOS Heets Fiit Today!